N Scale rolling stock I've painted or weathered myself:
Click on the picture to view a much larger version.
This is (was?) a Micro-Trains 60 foot high-cube boxcar in Norfolk & Western livery. My goal was to make a boxcar that looks like it was hastily thrown into the paint shop after the Norfolk Southern merger and returned to revenue service without too much regard for the quality of the repaint. As you can see, the white NW is still visible under the NS logo, which was intentional. I also put the Norfolk Southern text over the Norfolk & Western text which isn't quite as visible. It could probably stand a little more weathering, but I'm pretty happy with the result.



No model of the Chemical Coast would be complete without tons of cargo containers from Port Elizabeth and Port Newark!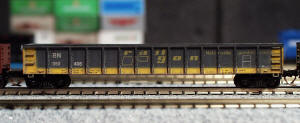 Here's area some of several RailGon gondolas I've weathered and/or added junk to.
I saw one of these cylindrical hoppers once in Newark. I added lots of rust, dirt, and graffiti to give it that genuine Newark flavor.
Car racks are a common sight in northern NJ. Here are some that I made look particularly grimy looking
Here are a pair of boxcars I added some graffiti to for a more realistic appearance
Here are 3 Atlas 33,000 gallon tankers that I painted, numbered and weathered. These are fairly common as they carry LP gas around refineries.