The Nozomi Shinkansen
The Nozomi ("Hope") Shinkansen is a super-fast train that runs between Tokyo in the north to Hataka (Hiroshima) to the south. This line has multiple different trains, there is a Series 500 and a 700. This model depicts the 500 series. Riding on one of these things is fantastic. Its smooth, quiet, and is probably the closest thing to flying on the ground that exists. One day I hope to compare it to the Amtrak Acela and see if the Japanese or Europeans have it right!
Here are some pictures of the model I bought on my Japan trip:
Here's the whole basic set of 7 cars. The prototypical consist is 16 cars.
Front, (on crappy Life-Like powerloc track!)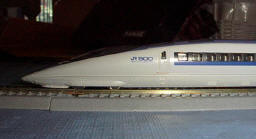 Side
3/4 view
A picture of the real thing