Locomotives I've painted myself:
I've only painted in Conrail and Norfolk Southern colors so far. Why? Because they're only one color! I'd like to do CSX, and I have the paints for CSX, but I haven't got the patience to mask off such a small model and try the 3 color CSX scheme.
Click on the picture to view a much larger version:
My first attempt: Norfolk Southern C40-8W #6889. Bachmann unit with MRC DCC decoder and white LED headlights with fiber optic light guides. It usually runs, its a bit tempermental. I only keep it these days because I spent so much time on it!

Later work: Conrail GP50 with CSX #9100. Kato GP50 mechanism, which is NOT AT ALL DCC friendly, nor is it anything like the more modern Kato mechanisms. The idea here was to depict a Conrail locomotive that went into the paint shop for a fresh Conrail Quality treatment and CSX renumbering. Unfortunately the "paint shop" (me) put a NS dashed stripe on a CSX/CR repaint. Oops. Digitrax decoder was added to the radiator area in the to rear of the shell. This unfortunately prevents the addition of a rear headlight.

I wanted to go with something different aside from the usual Conrail, NS, and CSX paintjobs. So. I did this Kato SD40-2 in NS Operation Lifesaver paint. I believe in real life, NS #7140 is a GP38 but I won't tell anyone if you don't.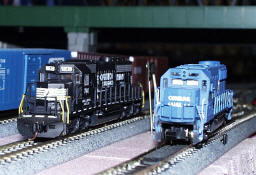 Both NS 7140 and CR 9100 from the front
Here's my favorite so far. Here's an SD90/43 painted in NS colors. I used Microscale decals for a C44-9W. I don't know if NS even has any SD90 units, so this was done primarily for fun. NS did repaint some of the Conrail SD80 units, which look very much like what you see here. Unit #9256 is (was?) actually a C44-9W in the "Operation Lifesaver" scheme. I used various Microscale decal sets to decorate this beast.
Here's a Kato unnumbered CSX C44-9W that I renumbered #6809. I don't know what the real CSX unit #6809 is.