NAOMI
is the result of a Dr. Moreau experiment. A true space cadette, spend time with her for a bizarre out-of-this-world, spaced-out experience. She started singing for fun at the University of the Philippines and was inevitably recruited for other musicals like Oratorio ng Bayan, Jesus Christ Live, Rocky Horror Picture Show, Manhid, and LEAN. True to her space cadette personality, she once limped throughout her performance in a play when she accidentally brought shoes with different heel sizes. She is a member of the unofficial U.P. Women's Soccer Club and also joins in fun run events and wins them. The band realized how good she was when they had to chase her down Timog Avenue during one of their fights. The only Scorpion in a band of Pisceans, she howls during February when it's everyone's birthday month. She loves lipstick, Italian food and size 0 jeans. Naomi works for a top radio station and may have been the voice on the radio that lulled you to sleep this afternoon.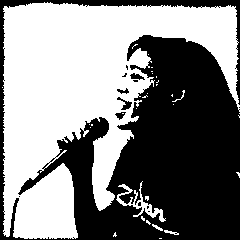 DORCAS
is the female mutation of Alfred E. Neuman, Bart Simpson, Daffy Duck, Calvin, and Hobbes. She started playing drums by chance when she saw an ad for drum lessons one summer and decided to blow her last P300 on it. The bangs and the whallops all came out naturally and she then wished she had started earlier. She looks exactly like the main female lead in the movie "HEAVEN & EARTH". But only Dorcas, or Dorky can burp and laugh like Dorky. She owns two sets of drums, a Tama and a Premiere, is influenced by various drummers, and has exhanged phone numbers with Vinnie Colaiuta, Sting's drummer. Dorky works for a top advertising agency and may have been the creative director of that new ad you've seen or heard lately. Her favorite quote: "CONFUCIOUS SAY HE WHO SLEEPS WITH AN ITCHY ASS WAKES UP WITH A SMELLY FINGER..." Her favorite coat: black denim jackets, anything soccer, but is basically a t-shirt person.
SUNNY
is bright, round, and warm, with a phat bottom-end like the sound of her bass. Although it seems like she was born with a bass guitar, she only started playing a few years ago. She currenly uses two bass guitars, one christened "MAHAL" a Fender Jazz, and "HEY", a Yamaha, both fitted with heavy gauge strings. She loves James Jamerson, Victor Wooten, Tai Woo, and Chow King. She says she cannot live without her dogs, books, cds, videos, Mars Attacks and Star Wars toys, nailclippers, talcum powder, toilet paper, and a clean bathroom. She has a temper and drives her car like she has a temper. She prefers spending time at home amidst her vast collection of books and videos and is an admitted pack rat. Sunny works for a top advertising agency and may have been the producer of that new ad you've seen or heard lately.
MAE
has a hard time finding a place in the world, is quite shy, and is usually watching a movie in her head. Her first electric guitar was a local Les Paul knock-off bought with money given to her by her grandmother. She forced herself to learn some lead guitar riffs a few months after Chain Gang formed to give the band a harder sound. She spent the early months with the band in search of a wah-wah pedal and when she found one, carried it around in a Lady Rustan's shoebox during gigs. With her medium built and seemingly serious nature, Mae can seem frightening at times but is actually a nice and gentle creature ...except when hot-headed and impatient, she can easily flare up at such simple things like waiting, feminine napkin ads, and pathetic remakes of old songs. Her current addiction is maintaining this website for the band. Her favorite quote: TIME FLIES LIKE AN ARROW, FRUITFLIES LIKE A BANANA. Mae works with big freezer-like mainframe computers and is trying hard not to freeze.