Smelly Smiley Stinky Dinkies
CHAIN GANG
Copyright 1993 Reyes, Mallare, Ubaldo, Villa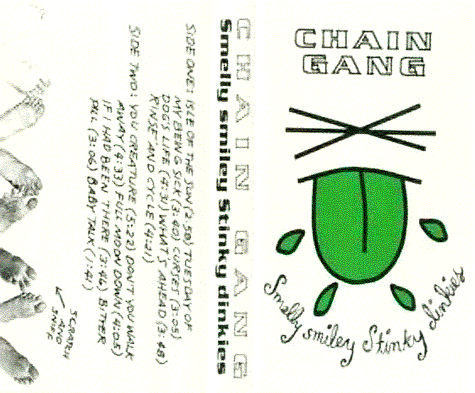 Smelly Smiley Stinky Dinkies was independently produced by Manila based Chain Gang in 1993. It contains 12 songs, with most of the songs having received airplay in Manila's rock and alternative stations. The band, Naomi Villa on vocals, Dorky Mallare on drums, Mae Reyes on guitars, and Aye Ubaldo on bass, decided to do it themselves when they found the local major recording companies not too friendly with bands. Unfazed and idealistic, the band decided that the idea of making the album themselves was more exciting. What does the album title mean? Ask the band members personally for a straight answer.
A few copies of this album, which was remixed and released again in 1995, are still available. Please email the band for more information.
Some quotes from reviews, articles, whatever:
"When it comes to song writing, Chain Gang could wipe the floor with most of the bands - male or female - playing the club circuit today. Their songs have substance, humor, and a 90's sensibility."
- Jessica Zafra, "Woe+Man=Woman" Twisted, Today
"Chain Gang has a style of their own and they don't come across sounding like anything of today's pop, grunge, hip hop or neo-ethnic sounds...The whole listening experience is just as warm and delicious as eating freshly baked cookies...This one's good..."
- Tinding Balasubas, Pinoy Rock and Rhythm
"Hay naku! Pa-practice na naman kayo!"
- Mae's mom
"The hit track, the ultimate 'Huh?' inducer, 'Tuesday of My Being Sick', is a classic of languid lassitude and just gets better from there...Combining such simply beautiful rhythms...and Naomi's creamy, suavely, sensous vocal pinning, weary yelps and utterances, Chain Gang assaults the ear and the ass, lulling and grooving..."
- Minus One Music Magazine
"Gagabihin ka na naman!"
- Dorky's mom
"In Smelly Smiley Stinky Dinkies, we hear finely woven songs that groove and move without being too harsh or too wimpy...Check out You Creature's droning bass line and slick chorus, Rinse and Cycle's emotional uproar, and other songs like Don't You Walk Away, Isle of the Sun, Bitter Pill, What's Ahead, and Full Moon Down..."
- Gadjo Sevilla, Record Reviews, The Philippine Star
"I have heard of the band called 'Chain Gang'; they released an independent album called 'Smelly Smiley Stinky Dinkies', they are one of the great bands I know who are not signed up with any major labels..."
- taken off the Philmusic newsgroup
"This all-girl Filipino group was aired during the early broadcasting year of The World Radio L.A. 105 in the Philippines...The group is worth listening to, actually they're great...."
- taken off the Philmusic newsgroup
"...We love hearing it again and again..."
- Jhi and Chelle, GIG Music Magazine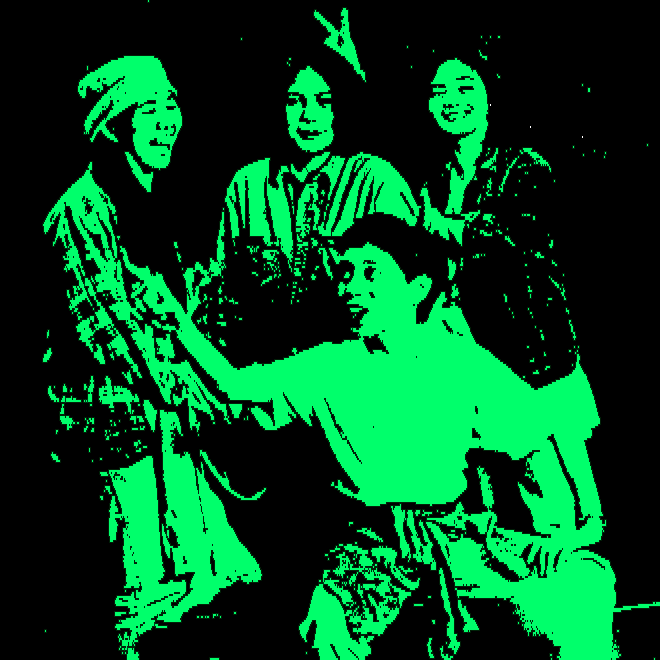 Tracks on the album:
Isle of the Sun - Mae strummed the chords F C G Gm and started humming "I love the rain..." to it for no particular reason.
Tuesday of My Being Sick - Mae wrote "tuesday of my being sick" on the corner of her notebook after completing the song on a Tuesday while on sick leave because she did not know what the date was.
Curses - written by Aye who has strong sentiments on feminism and political issues. Mae came up with the guitar riff, and Dorky threw in the melody.
Dog's Life - ask Dorky what this song means. Music was completed one Saturday afternoon at Red Rocks with the band starting off with a C#m chord Dorky suggested. This is the band's first baby.
What's Ahead - written by Mae overnight after spending hours on the telephone comforting a friend.
Rinse and Cycle - Dorky's thoughts on drinking.
You Creature - written by a rather angry Mae while stricken with chicken pox in Hong Kong where she had to work (no work and no pay while with chicken pox) for a few months.
Don't You Walk Away - written overnight by Mae while trying to remember Dorky's humming of Rinse and Cycle.
Full Moon Down - written by a miserable Mae also in Hong Kong while staring from a window at the moon's reflection on the sea below.
If I Had Been There - whatever.
Bitter Pill - written by Naomi, no one knows why, and she does not remember.
Baby Talk - completed in a few minutes by Dorky while thinking strange, funny thoughts.

HOME